Tripada set out on an exhilarating journey in the year 1968, from kindergarten to grade 7, with the goal of providing children a unique learning experience, to create an environment that enables them to enjoy the learning process and bring out their full potential.The need for a global language arose in the mind of our Founder Trustee and he founded the roots of a Institute where he made "English" as the language of Learning.
We know that each child has special talents and intelligence and unique method of learning. As teachers and parents, it is our responsibility to explore them in order to help the child discover his or her unique and special skills. Process of learning is not restricted within the classroom and we at Tripada, strive to bring the outside world in the classroom and classroom world on the school playground. This prepares them to work independently and as part of a team and that inspires them to be fearless in life. This in turn empowers them to innovate and grow as responsible citizens and good human beings.
We create an atmosphere of learning by practical teaching methods which are relevant and connected to life. We nurture creativity, observation skills; building confidence and self-esteem, inculcate values of tolerance and compassion; and appreciate diversity and internationalism.
At Tripada our facilitators are selected based on the requisite qualifications & boundless love for children. Our facilitators' objective is to help each child for his or her self-improvement. Here they create positive and productive atmosphere for children.By giving space to each teacher for experiment and bring her unique talent into the class, a spirit of collaboration is fostered. All in all, we take good care of our facilitators, so that they can take great care of your children.
A continuous, creative partnership amongst parents, facilitators and the school staff is the source of impressive strides made by the school in a short time. Parents' overwhelming trust has always been a great inspiration. Our school continues to define new benchmarks to make a difference in the lives of our children, and through them, to make the world a better place for everyone.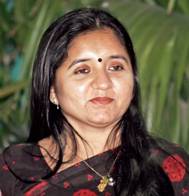 Dr. Jyoti A. Bhatt
Director Finance